All sales final on discounted items
In celebration of the 75th Anniversary of the U.S. Air Force, we've partnered with the military-rooted brand Alpha Industries to create the Randolph x Alpha Industries 75th Anniversary sapphire capsule collection. The Randolph x Alpha Industries CWU 45/P Bomber jacket comes in a mid-weight and water-resistant outer navy Flight Nylon fabric, lined with custom sapphire digital camo and complete with Randolph x Alpha Industries removable Aviator carrier patch to hold and display the matching iconic Aviator frames (Aviators sold separately). Features include custom embroidered co-branded patches on the chest and sleeves and Alpha Industries signature red utility ribbon paired with a gray co-branded collection logo ribbon on the utility pocket.
Grey co-branded flight ribbon and Alpha Industries signature red flight ribbon on pocket.
Navy blue flight nylon with sapphire digital camo quilted lining.
Sunglasses Carrier Patch: Navy blue flight nylon velcro patch embossed with Randolph x Alpha Industries logo, lined w/ sapphire digital camo and bungee closure. Includes 2 alternate patches: Navy velcro patch with U.S. Air Force logo and American flag with logos patch.
Navy blue velcro name tape sleeve patch with co-branded collection logo.
This garment is a unisex style. This jacket fits true to size for a men's core fit. Women are recommended to choose 1 size down.
Shell: 100% Flight Nylon. Lining: 100% Nylon. Fill: 100% Polyester.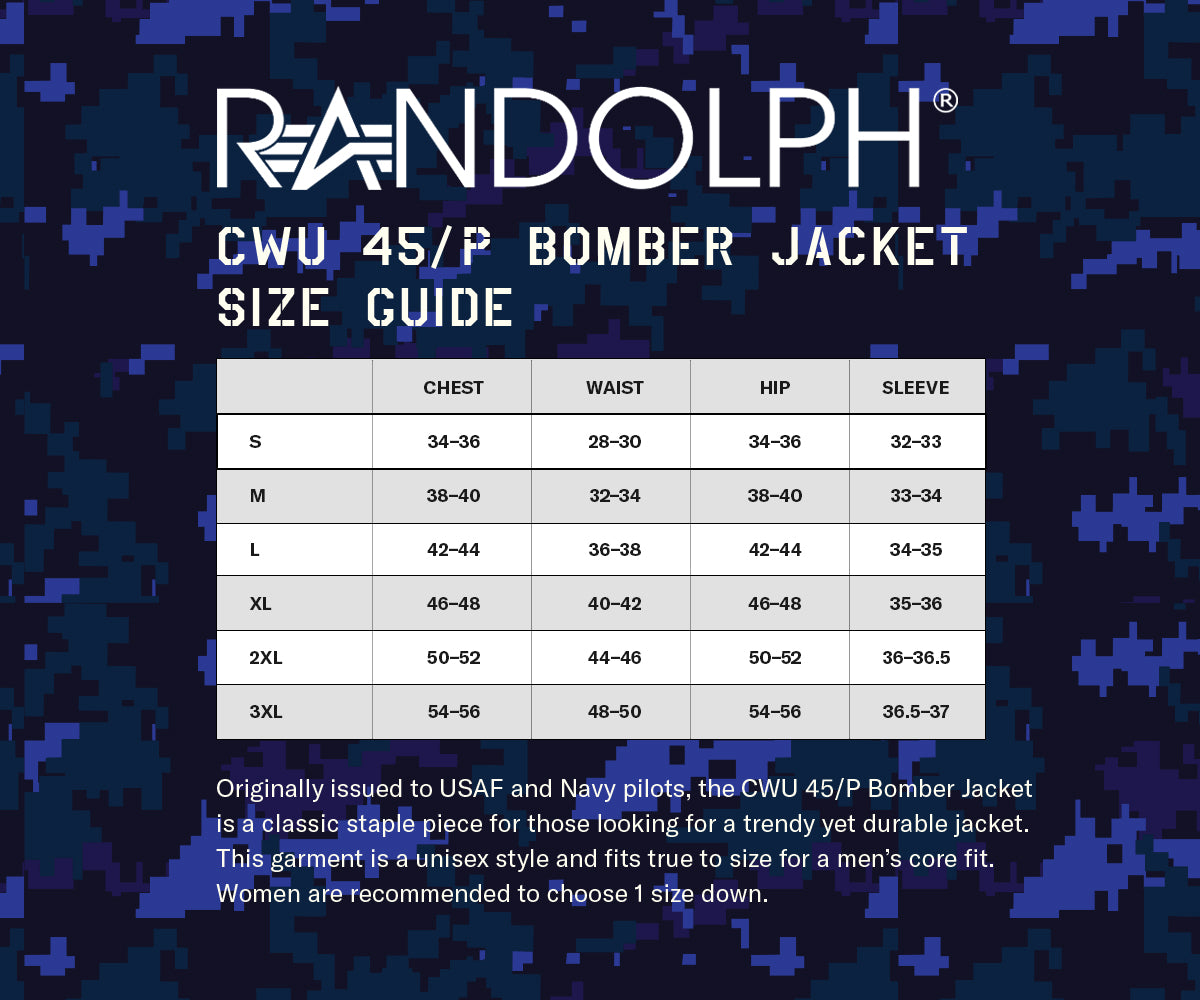 Free Shipping & Returns for U.S. Domestic orders $99+.
FREE SHIPPING AND RETURNS
MILITARY
SPEC
HANDCRAFTED IN THE USA
50 YEARS OF CRAFTSMANSHIP