Always authentic, always you. Worn by US Military fighter pilots for over 4 decades. Classic style, tested by time.
Always authentic, always you. Worn by US Military fighter pilots for over 4 decades. Classic style, tested by time.
TOP MEN'S AVIATOR SUNGLASSES

Designed and handcrafted with purpose. Take your Aviators on your journey through the skies or on the roads. They're built for adventure.
TOP WOMEN'S AVIATOR SUNGLASSES
Luxurious jewelry-quality finishes and premium lenses pair with this timeless style, designed to suit every face shape.
SPECIAL EDITION
MILITARY AVIATOR
Commemorating 4 decades of trusted partnership with the U.S. Military, the NEW Matte Black Special Edition Military Aviator is inspired by the bravery, dedication, and history of the service.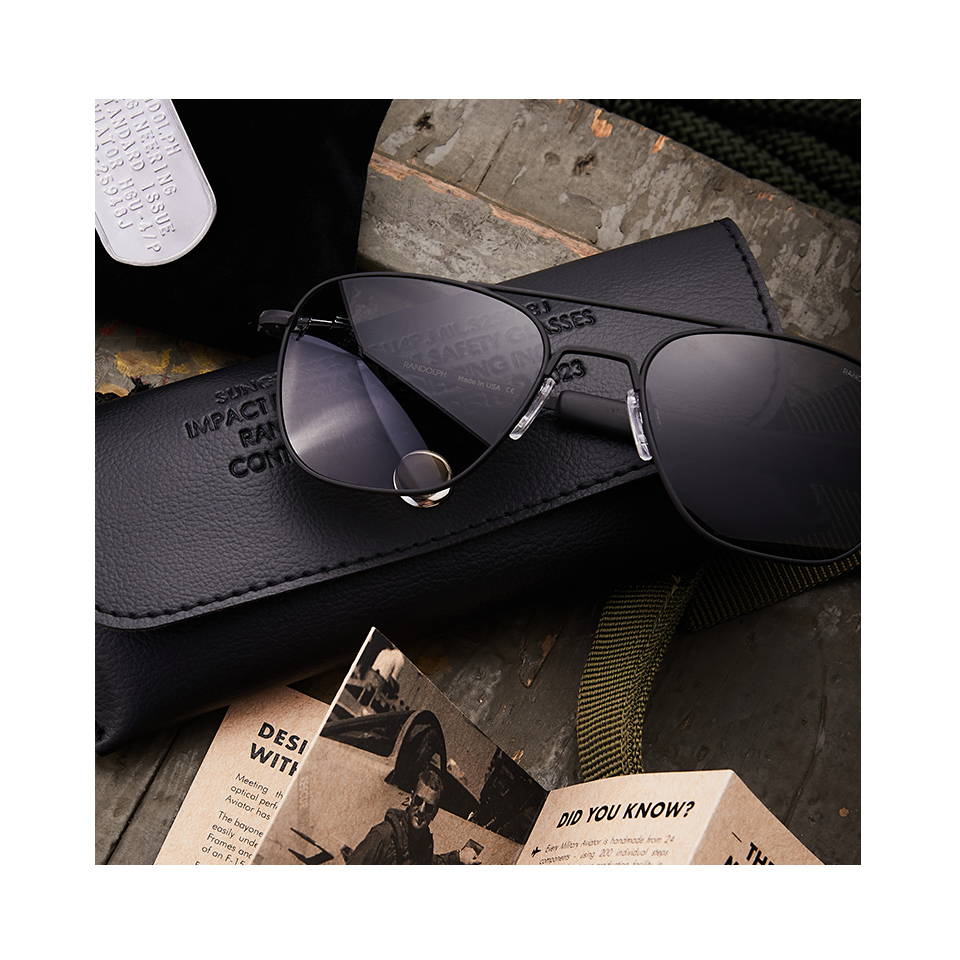 Seeing the world a little differently isn't just what you do - it's who you are.
Aviator Sunglasses for Men: The Best Polarized Glasses
Aviator sunglasses for men have an unmistakable look: the thin, metal frame with its instantly recognizable double bridge, and a timeless style that radiates cool confidence.
Men's aviators have a storied history that dates back to the 1930s when pilots faced a unique problem: soaring in excess of 30,000 ft, there is nowhere to hide from the sun in a cockpit. While aviator sunglasses made their debut in the military, it didn't take long for them to branch out and become an iconic accessory for decades to come.
The military still uses aviators, and Randolph is proud of a long-time collaboration with them. However, it's not uncommon to see aviator's glasses adorn the faces of celebrities on the cover of magazines.
Men's aviator sunglasses are considered one of the most fashionable styles of sunglasses. As we all know, fashion changes quickly, yet men's aviator glasses have remained one of the most popular styles for nearly a century.
The design and style of aviator sunglasses for men have always been a go-to favorite. These are undoubtedly one of the most attractive and distinctive style statements available in today's fashion arcade, where these special sunglasses have proven to be worn by a wide range of trend-conscious people. This form of eyewear is popular among men since it provides a timeless appeal and provides exceptional eye protection from the sun's harmful rays.
Whatever lifestyle you're embracing, the mix of technology and elegant style makes these sunglasses the ideal choice. The best men's aviator sunglasses never go out of style and should be considered a must-have item.
Customize Your Look with Our Frames and Lenses
Randolph offers the best aviator sunglasses. Men's eyewear needs to be tough to combat everyday challenges. When you invest in a solid pair of military-spec Randolph men's aviator sunglasses, you won't need to sacrifice style for function.
It's no surprise that Randolph's aviators have drawn the attention of US Air Force and Army pilots for decades. These high-performance aviator sunglasses are about as authentic as it gets when it comes to battling the elements. With its bayonet temples intended to fit comfortably under a helmet, Randolph Engineering physically manufactures its sky-ready frames to exact and stringent military criteria.
At Randolph, you can find aviator sunglasses for men in a style that best suits your lifestyle and needs. We offer frames that range from 23k gold to gunmetal and lenses in a wide variety of tints in polarized options.

In the market for aviator sunglasses for men but haven't yet found what you need? Don't hesitate to check out our aviator sunglasses for women, mirrored sunglasses, and more! Need more specific help? Get in touch with us here.