---
Randolph Partners with Iconic Japanese Designer, Junya Watanabe, for Brand Collaboration
---
For the first time in Randolph's 50-year history, our timeless, handcrafted made in USA eyewear has entered the lifestyle market through a partnership with renowned Japanese designer, Junya Watanabe. Not only will you see Randolph styles in Junya Watanabe's MAN Spring-Summer 2022 fashion show but Junya has also designed a luxury chrome case for four hand-selected frames. The noteworthy collaboration has gained the attention of several fashion/lifestyle publications such as HIGHSNOBIETY and COMPLEX.
This Randolph x Junya Watanabe MAN exclusive collaboration launches with global lifestyle partners in early-February 2022.
---
Looks from Junya Watanabe's Spring-Summer 2022 Men's Collection
---
Junya Watanabe was first drawn to Randolph's American heritage, and as a former pattern cutter, he appreciates the craftsmanship and dedication to uncompromised quality. After selecting the Matte Chrome Aviator, 23k Gold Intruder, Gunmetal Concorde and 22k Rose Gold Amelia to be featured in his runway show, he began designing a limited-edition case for his four favorite silhouettes to be distributed exclusively in-store to top-tier boutiques around the globe.
Watanabe's innovative use of materials and design aesthetic is exemplified in the hard, mirrored case that complements Randolph's iconic eyewear styles.
---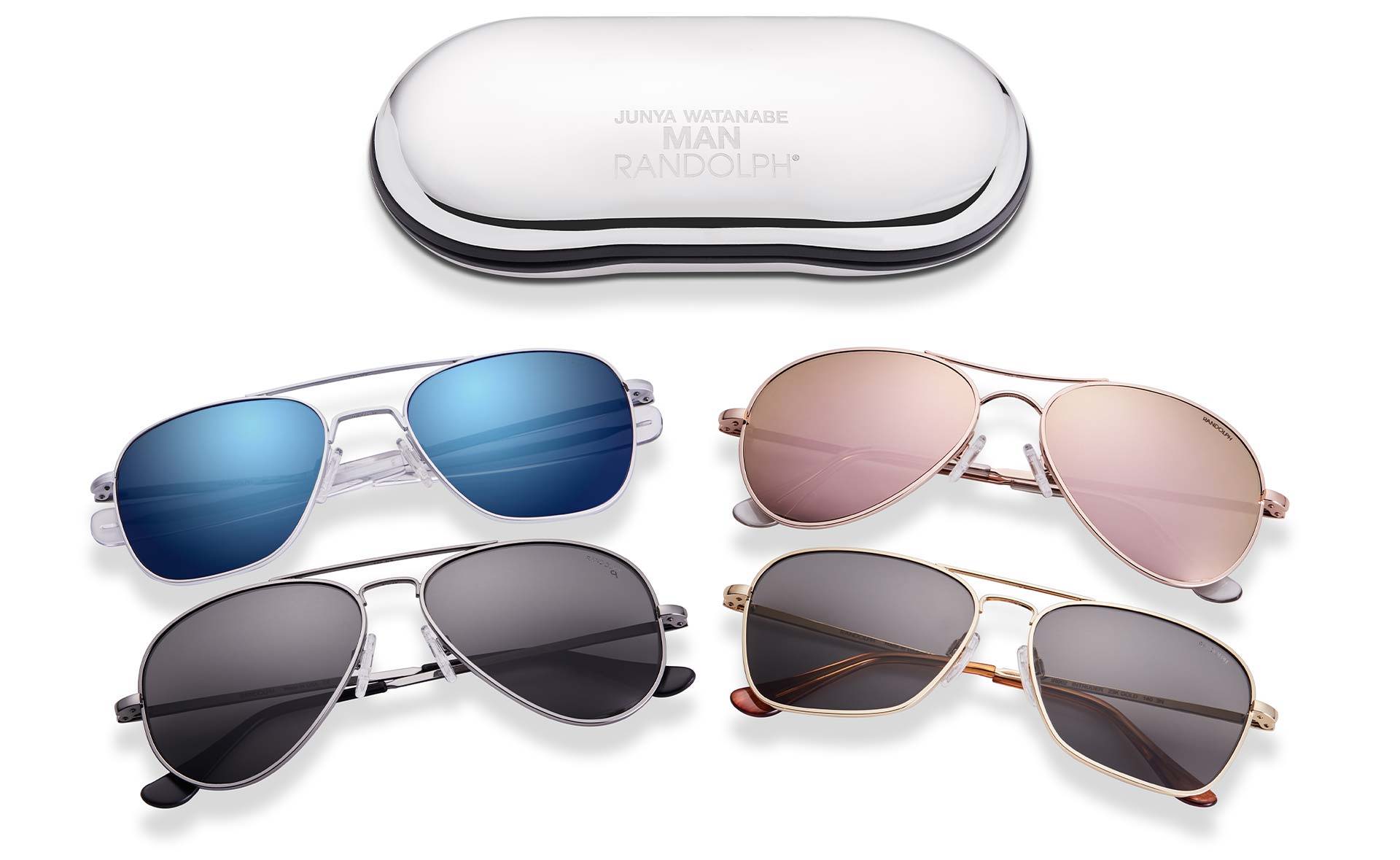 ---
Where can I buy Randolph x Junya Watanabe MAN Sunglasses?
---
The Junya Watanabe MAN x RANDOLPH® limited-edition case is available, with a choice of one of the four styles above, globally beginning in February 2022 at these premium boutiques: United States – IF New York, COMME des GARCONS New York, Dover Street Market NY, Dover Street Market LA; Japan – COMME des GARCONS Sapproro Parco, COMME des GARCONS Seibu Ikebukuro, COMME des GARCONS Gifu, COMME des GARCONS Nagoya Parco, COMME des GARCONS Nagoya Lachic, COMME des GARCONS OSAKA, COMME des GARCONS Fujidaimaru, COMME des GARCONS Hankyu Mens Osaka, Suzu, mark, 0262 bay, Dover Street Market GINZA; Canada – SSENSE; Italy – Diego Uomo, L'Inde Le Palais, Marty; Russia – COMME des GARCONS St. Petersburg; Sweden – Paul & Friends; Poland – VITKAC; Switzerland – Dee Cee Style; UK – Hervia Bazaar; Singapore – Club 21 Singapore. Each pair also comes with a RANDOLPH® microfiber pouch and eyewear instructions.
Though Junya Watanabe's exclusive case can only be found at the retailers listed above, you can still purchase Junya's favorite frames online at RandolphUSA.com.
---
---
About Randolph Engineering, Inc.
Family owned and operated since 1973. Randolph's mission is to provide the best sunglass ownership experience in the world, through uncompromised quality, exceptional customer service and impeccable engineering. Each frame is made by hand at Randolph's Massachusetts facility in 200 steps and over 6 weeks to create their signature style and comfort. For over 40 years, Randolph has also provided the US Military with military-spec Aviators, a contract they still hold today. Made by the extraordinary for the extraordinary.
---