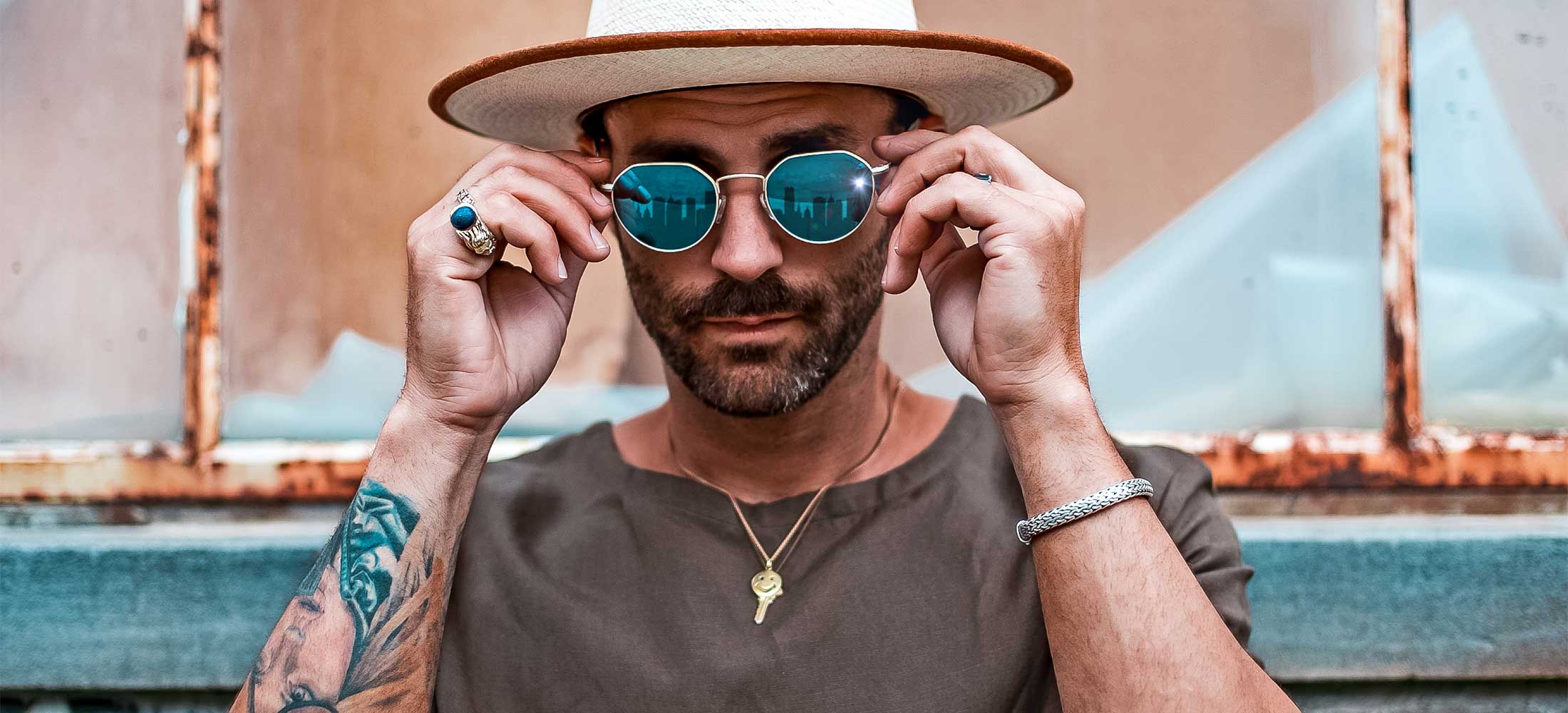 ---
GET TO KNOW MENSWEAR BLOGGER: @BLUECOLLARPREP
---
At Randolph, we make sunglasses for the extraordinary, for those who demand the best and nothing less. Classic styles, tested by time. Built to last a lifetime. We caught up with loyal Randolph enthusiast and Menswear Style Blogger, BlueCollarPrep to get to know more about his style and how he wears his Randolph sunglasses.
---
---
Hey BlueCollarPrep! Please tell us a little about yourself and where your handle came from.
My name is Eric. I'm 39 years old, and I live in NY, about 60 miles north of the city. For work I'm a lifestyle blogger, a brand owner with my wife and an electrician.
@BlueCollarPrep came from the fact that I'm a blue collar worker who likes to clean up & dress up when I'm not at work. I've been blogging for about 5 years now, but I'm always going to be a blue collar guy at heart!
---
---
How do you define your style?
We see so many looks on your Instagram from shorts and a tee, to suits – how would you describe BlueCollarPrep's style?
Versatile! I don't really have one specific look and I'm willing to try pieces from any type of style. I love vintage, street, vacay vibes, and even though I rarely wear suits, I wish I had a reason to wear more of them because I love how a nice, fitted suit makes you feel! No matter my outfit I love accessorizing. It's very rare that you'll see me posting an outfit shot without one of my fave hats or one of my fave pairs of Randolphs!
---
---
How many pairs of Randolphs do you own?
We know you've been sporting Randolphs in your looks for a few years now – how many pairs do you have in your collection?
Right now I have 5 Pairs of Randolphs and I love them all! I have the Aviators, the P3's in 3 different colors and my newest pair are the Hamilton frames.
It's honestly hard to pick a favorite! I thought I definitely would have said the P3's, but I'm really loving the shape of my new Hamiltons. Not to mention the color combo I got with the 22k Champagne Gold frame and Mystic Blue lightweight lens…LOVE! And they go so well with my blue toned instagram feed.
---
---
When it comes to fashion, what is most important to you?
You obviously have great style, and a killer wardrobe – when it comes to fashion, how do you decide what to buy?
Fit, quality and affordability are definitely at the top, but for me, it's all about the fit of a piece. No matter the brand, the style, the designer, the price point – if it doesn't fit well… I'm not buying it. Quality is up there too. I hate when something feels like it's going to fall apart after one wear. It can be the simplest piece, and if it has the quality to it, that you can immediately tell as soon as you touch it, I'm all for it and that will get me to try it on.
---
---
How do you style your Randolphs?
You are known for your street style menswear looks – how do you accessorize Randolphs into your looks?
I love adding them to my vacay vibe looks (I always take at least 1 pair on vacay with me). I love playing up my military inspired outfits with a bomber and a pair of Randolphs, and just letting them stand out on a simple street style look with some jeans, Chelsea boots and a leather jacket. Keep it simple, with a pop of some eye-catching, quality Randolphs!
---
---
Why do you choose Randolphs over other sunglasses?
You've got a great collection now, what do you love most about your Randolphs?
I love how my Randolphs feel on my face! You can feel the durability and quality as soon as you hold them. The temples open up with a tighter swivel, that makes it feel like even if you were to accidentally sit on them, they wouldn't bend or lose their shape. They're also nailing it with the style and lens shapes. They fit my face so well. My wife who always has a problem with sunglasses slipping down her nose says these just seem to stay put! Overall the quality is on point.
---
---
Where have you worn your Randolphs?
When you're not showing off your looks on the streets of New York – What extraordinary sights have you seen through your Randolphs?
My family and I are obsessed with the Caribbean, we try to go at least twice a year. I always take at least one pair of my Randolphs with me on my travels, because I know they will work with any look I rock on vacay. I've explored the islands of Curacao and Grand Cayman and seen the amazing Caribbean blues through the eyes of my Randolphs.
---
---
Do you have styling tips to share with fellow Randolph fans?
As a menswear mogul, if you could give our readers one styling tip, what would it be?
For me, fit is everything. I feel like I could rock almost any kind of piece no matter the style, as long as it fits my body correctly. Looking good comes from confidence, and for me confidence comes from comfort. Whether I'm dressed up or down, if I don't feel comfortable in the pieces I'm wearing, I feel like that translates through the outfit.
If you aren't already, go follow BlueCollarPrep online now with the links below!
Insta: @BlueCollarPrep

Blog: www.BlueCollarPrep.com

Twitter: @BlueCollarPrep

My Brand BLUE: @Not.The.Color.Blue

My Brand's Website: www.NotTheColorBlue.com
---